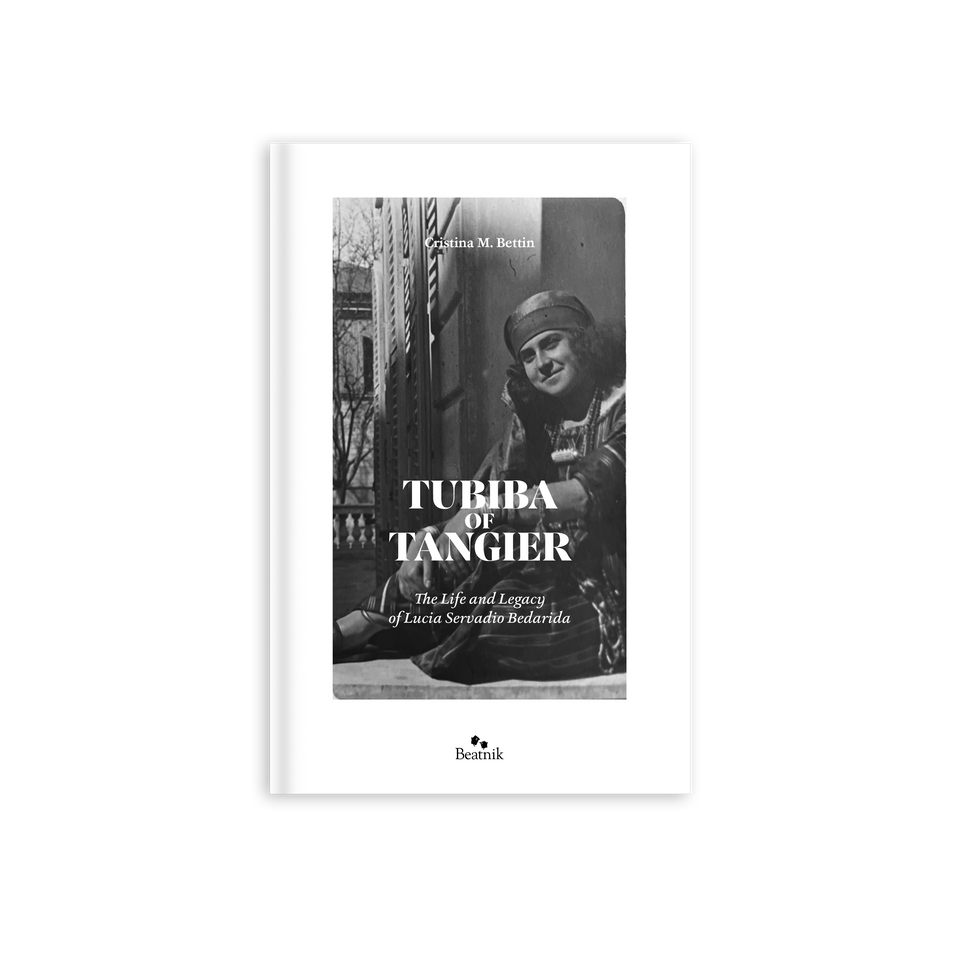 Tubiba of Tangier – The Life and Legacy of Lucia Servadio Bedarida. PLEASE READ THE DESCRIPTION BEFORE ORDERING
9781991165749TubibaofTangier
The add to cart button above is only suitable for customers in Aotearoa New Zealand. If you are purchasing from the anywhere else in the world please use the following links below.

Print Edition
Because of the international nature of this special book we have enlisted the services of Lulu for the print edition. Simply click the link and purchase through the Lulu Bookstore. Shipping is available worldwide using this service.
https://www.lulu.com/shop/cristina-m-bettin/tubiba-of-tangier/paperback/product-74z6r6.html?q=tubiba+of+tangier&page=1&pageSize=4

ebook Edition
Tubiba of Tangier is also available as an ebook on leading online retailers including –
Lucia Bedarida Servadio was born in Ancona, Italy, in 1900, and died in Cornwall-on-Hudson, near New York, USA, in April 2006. By her choice, her body was brought back to Italy and laid in the family tomb at the Jewish cemetery in Turin, where her husband Nino had been buried. 
Lucia was not afraid of dying, as she said in an interview in 2000 for her 100th birthday:  If I have a message for young people today, it would be this: You have to have faith in life because life is stronger than death. I have had a very rich, interesting life and I am happy to have lived it and to have had the things that I have had.
Cristina M. Bettin
Ben-Gurion University of the Negev, Israel
In this volume, beautifully produced by Beatnik and impeccably edited by the New Zealand Centre for Literary Translation, Cristina M. Bettin brings to life a little-known story of Lucia Servadio Bedarida, definitively establishing her as an important case study in the complex and painful history of modern Italian Judaism. In Bettin's thoughtful and empathetic hands, Servadio speaks to the reader in her own words, while the author chisels a careful path through the intersecting issues of gender, class, language, and culture that Tubiba's life illuminates. This is a story of pioneering medical achievement with a strong ethical charge, but also one of diasporic wonderings, both forced and deliberate, and of inter-cultural communication. It is at once deliciously random and wonderfully appropriate that this volume be the result of an intercontinental collaboration between New Zealand, Israel, and Italy.
Giacomo Lichtner – Associate Professor of History and Film
Te Herenga Waka-Victoria University of Wellington,
Aotearoa New Zealand
_________

TITLE: Tubiba of Tangier – The Life and Legacy of  Lucia Servadio Bedarida
AUTHOR: Cristina M. Bettin
SIZE: 140 x 216, 100 pages
PUBLISHER: Beatnik Publishing
ISBN 978-1-99-116575-6 (eBook)
ISBN 978-1-99-116574-9 (Print)
_________